Our Early Years environment provides a safe, healthy and stimulating environment. There is one spacious nursery classroom with an additional sensory room.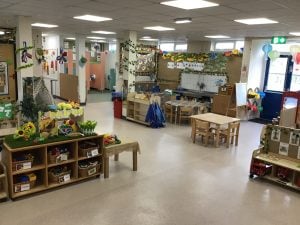 Reception Class children have access to two classrooms. Resources available indoors and outdoors provide opportunities to investigate and satisfy children's curiosity.
An outdoor area is shared between Nursery and Reception class children. Children have access to the large and well-resourced outdoor area throughout the day and are able to consolidate their learning and apply new skills they have learned within this environment.
As we follow a Forest School pedagogy, we have a fire pit area, access to a variety natural resources and a vegetable garden outdoors.
A lot of plants and newly planted trees enable children to explore nature throughout different seasons.
Forest School provision allows them to enjoy the freedom to explore and experience the natural world and widen their vocabulary and experiences.