Reggie came to meet the children at Laygate today and what a welcome he received!
Reggie is a 13 week old cavapoo owned by Mrs King. He will be coming into school regularly as a therapy dog to spread happiness and good vibes around the school.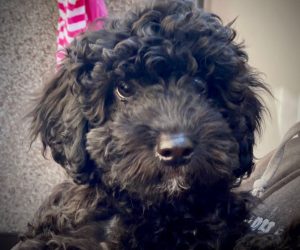 What are the benefits of having a school dog?
Therapy dogs have been working in UK schools for the past five years but have been commonplace in schools in the US and Australia for many years. Research studies have shown the benefits of therapy dogs in schools which include:
Cognitive – companionship with a dog stimulates memory, problem-solving and game-playing
Social – a dog provides a positive mutual topic for discussion, encourages responsibility, wellbeing and focused interaction with others
Emotional – a school dog improves self-esteem, acceptance from others and lifts moods, often provoking laughter and fun. Dogs can also teach compassion and respect for other living things as well as relieving anxiety
Physical – interaction with a furry friend reduces blood pressure, provides tactile stimulation, assists with pain management, gives motivation to move, walk and stimulates the senses
Environmental – a dog in a school increases the sense of a family environment, with all of the above benefits continuing long after the school day is over.